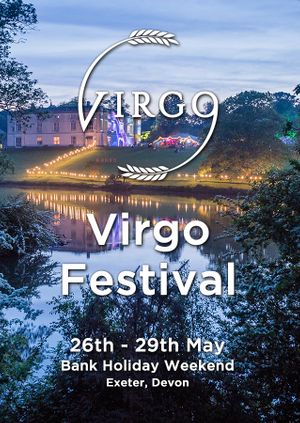 Virgo Festival 2017
18+
26th - 29th May 2017
12.00pm - 3.00pm
Greenwich Mean Time
Add to Calendar
Event Details
Thank you all who made Virgo Festival so special these past couple of years! We're truly overwhelmed with the love and support you have all given us. 


It's now time for us to return to Devon next summer for our 3rd year!! Same weekend, same place, same ethos. 
CRAIG RICHARDS • JOB JOBSE • TAMA SUMO
DAN SHAKE • KON • JANE FITZ • MOSCOMAN • JOHN GOMEZ 
THE MENENDEZ BROTHERS • VOYEUR • ISHMAEL (live) 
ANIL • BAWRUT • BROTHERS BLACK • CARL_H • CHRIS FARRELL
DSC • DANNY BUSHES • FUNSTER • HELTER SKELTER
JUNQ (live) • KENNY WHITE • PHIL BANKS • REMOVE_ME • SOUTH LONDON SAMBA
PLUS LOTS MORE!

Join us for another magical weekend at Virgo Festival on the end of May Bank Holiday 2017!!
Tickets are now available via our website:
www.virgofestival.co.uk
CRAIG RICHARDS • JOB JOBSE • TAMA SUMO